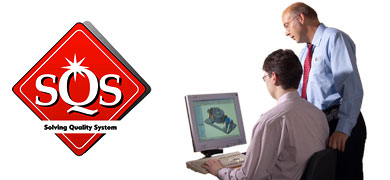 Our Mission Statement
We aim to create a long-term partnership with our customers to develop solutions that offer significant improvements in efficiency and reductions in cost. We are therefore able to offer our customers an opportunity to enhance their competitiveness. Specialised interface equipment, ergonomic design, and environmental considerations, also contribute to added value for the user. We have always considered the quality of our equipment to be of the utmost importance to our customers. We have therefore developed the Solving Quality System (SQS), which is based on ISO 9001, to ensure that all projects are monitored throughout the entire process, from the initial enquiry to our aftersales service.

A project team is assigned to each contract to maintain continuity and control, and to ensure that the product meets the customer's needs, on time and within budget. We consider it essential that we provide a high standard of aftersales support to our customers. Our world-wide network of subsidiaries and distributors, together with our engineering support team, is trained to provide local support and advice, and spares can always be provided rapidly.